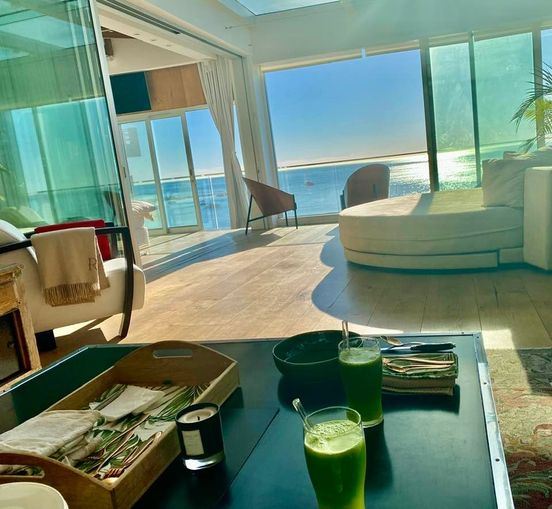 Daily Green Juice
It's been over 20 years since I started daily green juices. I treasure them every day with the most enormous gratitude! They can be made utterly delicious if you get the ingredients & order right. It's this knack that will make all the difference.
Ingredients to My Perfect Green Juice
My daily green juices are so smooth and hydrating because of the balance of greens: first juice the darker greens (your parsley, kale, chard or arugula). Next goes the romaine lettuce if you have it. Then, in go the cucumbers (1-2 per person). Then the ginger knob and finally the lemons (I use the whole lemon with rind). Make sure the filter is not clogged and always super clean to ensure the juice is without any pulp (strain if needed as you want it super smooth). I add a few drops of liquid stevia – but that's up to you. This juice tastes unbelievable. After all these years I love it more than ever. Pure, clean, refreshing life-generating elixir!
Food that is Force from the Source
It really is the simple things that elevate our lives: alkaline air, a peaceful heart, inspired thoughts and the highest vibration, super-hydration energy drink on the planet powered by the golden Force from the Source.
In loving service,
Natalia